Having collaborated with leading Medical Aesthetic Nurse Practitioner, Sarah White, for a number of years, SkinCeuticals is delighted to announce a formal partnership in the form of their second Advanced Clinic Centre.
Located on the Wirral, the Advanced Clinical Centre in collaboration with Sarah White will provide a hub of skin innovation.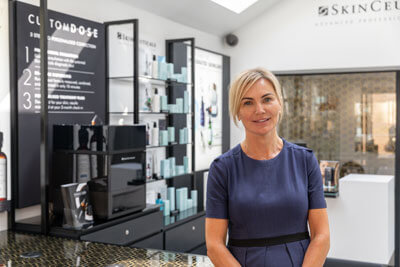 With a dedicated treatment room, clients will be able to select from SkinCeuticals' full treatment menu including facials and peels, skin scope appointments, the full product range and Custom D.O.S.E personalised corrective serums, made in-clinic.
"We have a long-standing successful partnership with Sarah White in the North-West of England. We are excited to be opening the UK's first Advanced Clinical outside of London. Complete with Custom D.O.S.E., dedicated treatment room, Skinscope technology" - SkinCeuticals
Sarah White is an advanced Medical Aesthetic Nurse Practitioner, registered General Nurse, registered Sick Children Nurse and Independent Prescriber and boasts an experienced team of injectors and aesthetic therapists, having built the leading aesthetic practising in the North West.
With over 20 years' medical experience, Sarah White prides herself on the clinics quality and continued development of the large range of hospital-based aesthetic treatments they offer.
"When looking for evidenced based skincare, I tried numerous brands but I quickly discovered that SkinCeuticals is a clinically effective skincare range that makes a positive difference to overall skin quality and provides visible benefits much desired by my patients. A great favourite with my patients is SkinCeuticals C E Ferulic. A triple antioxidant formulation, C E Ferulic protects against environmental aggressors and helps correct premature signs of ageing such as fine lines and wrinkles. It leaves skin visibly firmer and more nourished. CE Ferulic is also a natural choice for use post procedure as its potent ingredients mean it can accelerate skin repair." - Sarah White

SKINCEUTICALS LAUNCH TARGETED NECK CREAM
Tripeptide-R Neck Repair offers a tri-functional approach to stimulate, organise and strengthen the skin's matrix to correct visible neck ageing following in-clinic insights.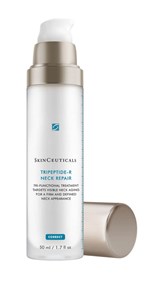 35% of SkinCeuticals' customers are concerned about neck ageing. That's almost on par with their worries about 'crow's feet'**. SkinCeuticals' clinics have reported an increase in requests for clinical neck rejuvenation treatments, making our newest innovation the perfect at-home solution for this fragile area.
Problem: The neck area ages differently than the face due to its anatomy and constant movement. Lower lipid levels, higher elasticity, stretch and slower cell turnover means the neck is often the first area to show signs of ageing. This is further complicated by photo-ageing, thinner and easily sensitised skin. Dermatologists often recommend to not use actives, such as Retinol, on the neck as we can do on the face.
Result: Confusion surrounding neck ageing - which can manifest itself as lines 5 x deeper than wrinkles on the face.
Solution: Tripeptide-R Neck Repair, a triple function corrective cream with Glaucine, Tripeptides and Retinol, clinically proven to firm and define the neck appearance by smoothing crepiness, reducing sagging, wrinkles and diminishing neck fullness. 
Key Ingredient features and benefits – Triple-Action Technology:
Stimulate: 0.5% Glaucine (yellow poppy extract) known for its inhibitory effect on fat cells, stimulates lipolysis to reduce submental fullness 
Organise: 2.5% Tripeptide unifies collagen and elastin fibres for improved quality to prevent and correct the appearance of fine lies and wrinkles 
Strengthen: 0.2% Pure Retinol, strengthens collagen fibres to improve firmness 
In-vivo Proof:
30% improvement in appearance of horizontal neck lines
88% of those tested saw a significant reduction in chin fat 
17% improvement in tonicity  
Tripeptide-R Neck Repair can be used at home to support in-clinic procedures such as Kybella, Coolmini, Ultherapy and Thermage.
FURTHER INFORMATION: