One of the most important advances for cosmetic procedures in the last 20 years, Renuvion® cosmetic technology is Reshaping What's Possible for your practice and your patients.
Employing proprietary Helium Plasma Technology from Apyx™ Medical (a recognized leader in surgical energy-based solutions) Renuvion delivers proven results, significantly improves operational efficiency and offers unmatched versatility.
Heat = contraction
Previously RF technology has been limited to slowly heating areas of tissue to around a maximum of 60 degrees, however bulk heating can cause damage and is slow.
It has long been recognised that 80 degrees plus is actually the optimal temperature for maximum contracture and this is now possible, with safety and control.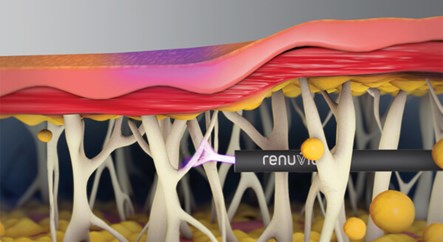 At the touch of a button Renuvion delivers an 85 degree strike of energy in a tenth of a second ,causing maximum contraction to the subdermal collagen network and then instantly cooling down to base temperature. The high temperature employed cools so quickly that the external skin measurement increases by less than 4 degrees.
Significantly shorter application times, greater accuracy and improved safety allows the sensible and profitable introduction of Renuvion to improve many existing procedures, most obviously liposuction. The combination of liposuction and Renuvion truly allows for cases where far more surgical options would have previously been employed, widening both patient options and patient availability.
With Renuvion, there are both immediate and long-term effects, initial contraction is noted by surgeons during procedure and continued tightening occurs more naturally over time.
Comfortable and easy to use cannula style hand pieces in a variety of sizes make this procedure very similar to your liposuction technique.
No hidden costs for equipment or maintenance
Time-efficient procedure, your everyday go-to device
Simple to set up and use
Best-in-class monopolar and bipolar energy
No need to buy any type of maintenance contract, ever
4 year Guarantee
FURTHER INFORMATION: