riting,

I am now halfway through my second set of 12-hour shifts on our COVID admitting ward. As this crisis loomed, our hospital shut down elective services and drafted in all staff to support the expected surge of ill patients. While cancer services were put on a temporary hold (pending finding a private sector resource for them), the plastic surgery department was split into teams to initially cover a ward and then also

the

i

ntensive treatment unit

(

ITU

)

. As the beds started filling, we were quickly fit tested for FFP3 masks and trained in basic management of the COVID patients. We also learned new skills such as

'

proning

'

patients (turning face downwards) in ITU and how to manage a patient on a ventilator. We also continued to maintain and allocate cover for acute plastics, burns and hand surgery. 
Now we are well into this new existence and, as well as the challenge of trying to understand things that in normal life only physicians know, I have found many other things. These include: 
Our trainees are multi-talented, enthusiastic, caring people who have faced this challenge with hard-work, dedication and good humour

.

My colleagues are not only great surgeons but can assimilate new knowledge and innovate new ways of managing problems quickly and efficiently

.

There are places and amazing people in our hospital that I didn't know were there before

.

Getting to work and parking is a lot easier when there are not many other people on the road

.
Of course, none of these things are unexpected or surprising but it sometimes takes a crisis to make you take notice of them. We all long to get back to our familiar routines and to do the work that we are skilled and confident in, but the lessons learned in this experience will enlighten us and inform us for years to come.  
Here are just some of our amazing COVID beating team including two medical students, two trainees and three consultants: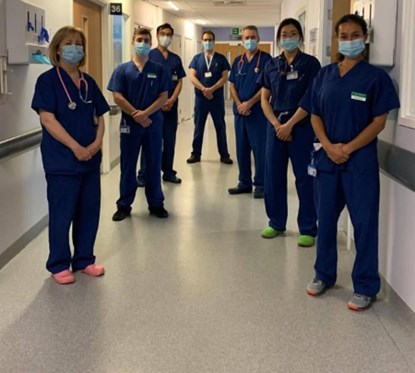 Ruth Waters, Consultant Plastic Surgeon at Queen Elizabeth Hospital, Birmingham; and incoming BAPRAS President 2021. 
Acknowledgement: 
This article first appeared on the BAPRAS website: 
http://www.bapras.org.uk/media-government/
news-and-views/view/covid-19-plastic
-surgeons-on-the-front-line---ruth-waters

Reproduced with kind permission of BAPRAS.