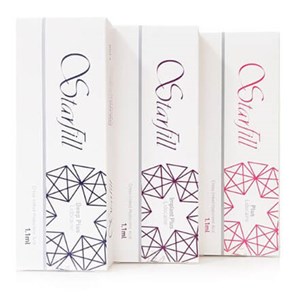 A filler with staying power, Starfill treatments last 12+ months
Three products tailor-made for the correction of fine lines and deeper creases and wrinkles as well as feature augmentation and facial contouring
Superior performance and superior composition for natural-looking results that last
JeunAesthetic has taken on the UK distribution for StarFill, a new range of CE marked 100% HA dermal fillers infused with Lidocaine.
Manufactured in Korea by the firm behind Regenovue and e.p.t.q., StarFill is a high-purity monophasic cross-linked HA filler (24mg/ml) that delivers natural-looking results for upwards of 12 months.
In the range:
Plus - for fine lines and wrinkles, vermillion border, periorbital lines, neck folds and eyebrow reshaping
Deep Plus – for deeper wrinkles and creases, such as nasolabial folds and glabellar lines, shaping facial contours, e.g. cheeks and lips, perioral lip lines, philtrum, fullness and pouting.
Implant Plus – for shaping facial contours, e.g. cheeks, jawline and chin, nose reshaping
Rheological properties for Deep Plus (1.1ml) are G" 37.32, G' 130.52, tan ∆ 0.29. Average extrusion force of 12.8N, current endotoxin level of 0.03EU/ml, non-detected BDDE.
StarFill is the filler of choice at award-nominated Laura Spence Aesthetics Academy in Chester: "We are absolutely amazed and overwhelmed with the reviews and results we are receiving about StarFill!"
FURTHER INFORMATION:
JeunAesthetic
W: www.jeunaesthetic.co.uk
E: info@jeunaesthetic.co.uk