IBSA Derma, IBSA's dermo-aesthetic division, is pleased to present Viscoderm® Hydrobooster Cream, its new hydrating cream based on high molecular weight hyaluronic acid, specifically designed for women who want to enhance the quality of their skin and make it radiant and smooth.
Suitable for face, neck and, décolleté, with a soft, light texture that allows for rapid absorption, Viscoderm® Hydrobooster Cream contains hyaluronic acid and jojoba oil, which help restore the skin's hydrolipidic film and preserve it over time.
The high-quality hyaluronic acid used by IBSA Derma guarantees hydration, while jojoba oil provides for a combined emollient and regenerating function, helping restore the hydrolipidic barrier of altered skin. The synergic effect of the two ingredients is therefore useful in counteracting skin ageing.1
The hydration efficacy2 of Viscoderm® Hydrobooster Cream is immediately visible (+5.4% one hour after the first application) and is maximized through consistent and systematic application, achieving an increase of 14.7% after only 28 days.

Hydrating Action: After 1 hour / After 7 days / After 28 days
Viscoderm® Hydrobooster is a medical device based on stabilized hyaluronic acid. The product has a dual function: restoring deep hydration while, and this is the big news, achieving a stretching action, smoothing out superficial imperfections (static and dynamic wrinkles) in the highly mobile areas of the face, such as the periocular and perioral ones. Viscoderm® Hydrobooster cream can be used as a homecare treatment.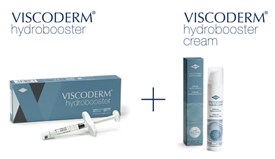 The Viscoderm® line has been designed by IBSA Derma for an approach focused on prevention and on the bio-restructuring of the skin barrier, maintaining skin vitality and providing firmness, hydration and radiance. IBSA's high-quality hyaluronic acid is produced by Streptococcus Zooepidemicus through a bio-fermentation patented process.
IBSA Derma prides itself on sound scientific know-how, enhanced by ongoing collaborations with internationally renowned professionals and makes its treatments available to leading clinics in over 70 countries worldwide.
FURTHER INFORMATION:
IBSA Farmaceutici
Via della Filanda, 30
26900 Lodi – Italy
T: +39 0371 6171
W: ibsa.it