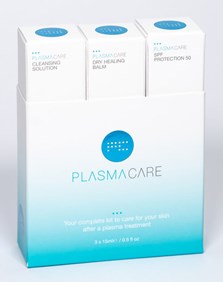 Plasma Elite has the only 100% British Plasma Pen along with a full 100% British aftercare system to support your clients. The pen is wirelessly controlled using a low frequency plasma arc. No marketing hype, the results are all our clients and speak for themselves.
We are fast becoming known for our values:  Honesty, Trust, Safety Integrity, our reputation is more important to us than the profit. One year full warranty, no quibble support 24/7.
Our price only £2999 plus vat for opening kit including training. 
Our aftercare consist of an anti bacterial cleanser,  a dry healing, anti itch soothing balm and a SPF factor 50 skin cream.
No other system offers this sort of support for aftercare.
FURTHER INFORMATION