A gentle chemical topical peel aimed at improving the external appearance of the vagina has been launched in the UK
Pink Intimate System, distributed exclusively by aesthetics product and equipment company, Trimedica, aims to restore a more youthful, healthy appearance to the vaginal and sensitive-area tissues, as well as tighten, lift and whiten skin.
The non-invasive solution includes nourishing and soothing ingredients such as vitamin B12, bisabolol, ionic acid, rucinol and glycyrrhiza glabra root extract, and can be used on the intimate areas, which includes:
The mons venus, the mound of flesh above the pubic area;
The labia majora, the outer folds of skin that are situated on the vaginal opening;
The perianal region, the area around the anus;
The inguinal region, the area of the crotch.
Manufactured in Italy, the product is available in 3 formats: in a box containing a single, 3-pack or 14 individually wrapped vials, 3ml of product in each vial and 14 droppers. It is the only topical treatment specifically designed for safe use in the genital areas. The treatment can be performed as a simple clinic-based procedure taking no more than 20 minutes on average, and patient case studies have shown immediate and lasting results, many with just a single treatment. The skin-sensitive peel can also be used to whiten other areas of the body, including:
Underarms
Elbows
Knees
Glutes
Areola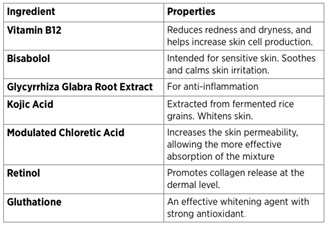 Backed by Dr Kannan Athreya, he commented, "The Pink Intimate treatment provides results that rival, and in some cases, surpasses outcomes that were only previously achievable by energy-based devices costing tens of thousands of pounds.
"Additionally it may be used to helpcondition and treat other body areas where skin rejuvenation (eg. neck, knees) and/or pigment lightening (eg axilla, nipple) may be desired and as such, the versatility, cost effectiveness and demonstrable outcomes make the Pink Intimate a compelling product to add to the aestheticians treatment skillset."
FURTHER INFORMATION
W: www.trimedica.co.uk
E: info@trimedica.co.uk
T: 0208 248 2468