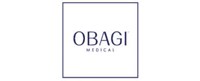 NEW from Obagi Medical:  Daily Hydro-Drops™
Obagi Medical have expanded their hydration offering with the launch of NEW Obagi Daily Hydro-Drops™, a daily serum rich in antioxidants and revolutionary Isoplentix™ technology.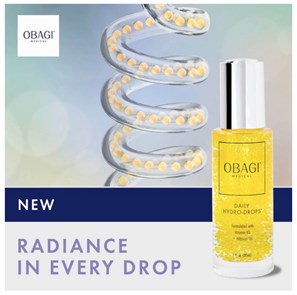 What are the benefits of Daily Hydro-Drops™?
Harness the purest forms of Vitamin B3, Abyssinian oil and Hibiscus oil with new Daily Hydro-Drops™. Rich in antioxidants, including phytosterols and omega-9, this daily-use serum also contains omega-6 fatty acids that support the essential components of the skin's natural barrier that normally deplete over time. This clean, light-weight serum provides instant results for a "pick-me-up" from a dull, lackluster complexion with added benefits including:
Provides antioxidant rich Abyssinian and Hibiscus oils
Supports skin's natural barrier
Immediately provides smoother skin that feels hydrated all day
Diminishes the appearance of fine lines and wrinkles over time
Obagi Daily Hyrdro-Drops™ are hypoallergenic, non-comedogenic, gentle and suitable for most skin types. Daily Hydro-Drops™ have also been Dermatologist tested as well as Ophthalmologist tested.
What is Isoplentix Technology?
Revolutionary Isoplentix™ technology protects and preserves each ingredient to ensure results you can see, along with a rich, sensory experience you can feel. A lightweight, non-comedogenic and hydrating serum, Isoplentix™ Technology suspends key ingredients, removing the need to add in unnecessary and potentially irritating emulsifiers, and preserves them in their purest forms until the moment of application.
91% of users said skin feels SMOOTHER with first use*
84% of users said skin feels instantly REFRESHED with first use*
*Data on file at Obagi Cosmeceuticals LLC
Can I use Obagi Daily Hydro-Drops with my current favourite Obagi Hydrate Facial Moisturiser?
Best-seller, Obagi Hydrate® and Obagi Hydrate Luxe® with their Hydromanil, Shea Butter, Mango Seed Butter, Avocado Oil, nourish the skin by directly retaining water in the outermost layers of your skin while continuously supplying hydration to the skin. Daily Hydro-Drops and your choice of either Obagi Hydrate® or Obagi Hydrate Luxe®, are the perfect complementary combination for the hydration your skin needs.
Where to find Obagi Medical
Obagi Medical products are available at clinics and via dermatologists nationwide. To find your nearest clinic go to https://obagiuk.com and select 'Find Obagi'.
FURTHER INFORMATION
Obagi
E: marketing@healthxchange.com
https://obagiuk.com