James Partridge died on 16 August 2020. He was a truly remarkable person and I would like to share my sadness at his passing and why I held him in such high personal esteem. We started life just a few months and a few miles apart. Our backgrounds and early life journeys were very different, and we did not meet until we were both young middle-aged men. I have talked a lot about James with students and colleagues and mentioned him in an Editorial I wrote for JPRAS in 2007. The Editorial was about face transplantation:
"But the question still remains, what is a face? I was originally going to entitle this editorial 'Changing Faces?' Without the question mark this would be the title of a book written by an extraordinary human being, James Partridge. It is also the name of a remarkably successful charity that he founded. James is an absolutely delightful person who radiates charm and confidence. James sustained very severe facial burns as a teenager and underwent classic plastic surgical reconstruction by that master surgeon John Clarke using tube pedicles."
I have a favorite photograph of James that again I have shared with many students over the years and indeed used it in an article I wrote for The PMFA Journal in 2014. The article was titled, 'The Challenge of Renaissance, not Reconstruction: the aftermath of an acid attack'. I shall do a little copy and paste from that article:
"I will leave regeneration for another time and move on quickly to psycho-social rehabilitation. Nobody understands the importance of this more than James Partridge, the founder of the charity Changing Faces. James wrote an autobiography entitled Changing Faces: the Challenge of Facial Disfigurement. The following could be a brief plot synopsis:
'Through a deeply personal journey, a severely burned university student rediscovers his 'face' in the community and in the process gains a wife and a new life.'
And what an amazing life it has been. Figure 1 was taken in South Africa some years ago. The lady sitting next to James was, in the times of Apartheid, branded a terrorist by some, a freedom fighter by others. She has gained great respect from her fight and now acts as a community liaison officer between the impoverished inhabitants of the Cape Flats and the white healthcare workers in the local hospitals. But what emerged from the dinner table discussion that night was that Apartheid, at least a form of it, still exists. But now it is not colour but aesthetic appearance that separates people."
This is the photo I am describing: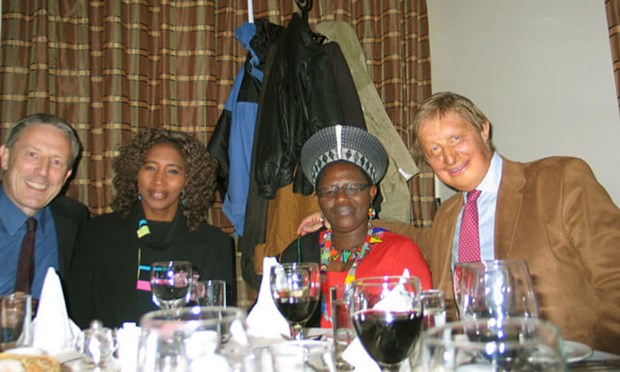 We were at the 4th World Congress of the European Club for Paediatric Burns hosted in Cape Town by Professor Heinz Rhode, in October 2005. I have a few more photos from that meeting to share but let me get back on track. I wanted to check a few things before putting words on the page and I looked at James' Wiki entry. I have to say it made me more, rather than less, confused about certain details.
James was born in October 1952, I was born in December 1952. In the Chinese horoscope we are both Dragons. Now Wiki says James was "Born in Chipping Sodbury, Gloucestershire, and educated at Clifton College, Bristol, ……." This confuses me because when I eventually met James for the first time we talked a lot about many things and I distinctly remember James saying his roots were in Flax Bourton. This is on the Weston-Super-Mare road out of Bristol. My roots are just a few miles further down that road in Backwell. The significance of this is that we appreciated that we had begun our journeys through life at very much the same time and place and although taking very different routes we had been brought together by a shared passion, renaissance. A bond formed, a brother-ship if you like, and I was so dearly looking forward to renewing this 'in old age'.
The sequence of James' accident, reconstruction and renaissance are rather different in the way he shared it with me than the details described in Wiki. But that is part of James; he was a great storyteller and would not let details get in the way of the message. We used to talk about that when questioning the ethics of embellishment when teaching and seeking ways to raise the impact of the message. The way James described his Channel Island retreat was that he had elected to withdraw from society, become a hermit and live without the stigmatisation of being different because he had facial scars. James says he looked after a farmer's cows in exchange for accommodation and it was the love of the farmer's daughter that gave him the courage to start the long journey of psycho-social rehabilitation. There was no route, no directions, no guides. It was James and love that persevered and this is what James described in his autobiographical first book, Changing Faces – the challenge of facial disfigurement.
This personal odyssey caught the attention of a clinical psychologist at the University of the West of England in Bristol, Nicola Rumsey. Nicola had an academic interest in disfigurement, and she recognised that what James had described was a journey that could be tested and validated and used to help others.
1990s, first meeting with James.
I honestly cannot remember when I first met James, but I know why. In 1992 Nigel Mercer and I were appointed as consultants in the plastic surgery unit at Frenchay Hospital in Bristol. Nigel was taking over the cleft service and I was running the burns service. In the meantime James and Nicola had met and had talked about getting a research grant to study the potential for setting up a unit to study and intervene in patients with some form of facial disfigurement such as post-burn scarring, cleft repairs, vascular anomalies. And so it came to pass that the four of us, James, Nicola, Nigel and myself, met to discuss setting up a pilot, NHS funded, disfigurement support unit (DSU) at Frenchay Hospital in Bristol. I do recall our first meeting was at Browns in Bristol, an iconic bar / restaurant on Queen Street, Clifton. And thus, began a friendship between a burn survivor and a burn surgeon both driven with a passion to "make the world a better place for those who are different".
James was living in Clifton and working in London setting up his charity. He had charm, he had charisma and he could engage with people, both those with disfigurement and those with money. He was very bright and articulate but also very astute from a business perspective and the charity went from strength to strength. We talked about the real challenge which was to try to change minds. The reality is that we are hardwired to reject differences in others as part of our primordial biology. To change our primordial instincts is very difficult and we talked about strategies; is evidence better than emotion when trying to change a person's point of view? I did a quick internet search and found the following link of an article that appeared in the Independent in 1994, the year the DSU opened:* (https://www.independent.co.uk/news/uk/disfigured-to-get-help-over-emotional-scars-1389971.html)
Fast forward to 1996. James and I had had many conversations about 'renaissance' but also about survival and one of the major challenges is to help burn survivors and their parents and families to look past the scars into the future. There was a case that really affected both James and I very deeply and involved an eight-year-old boy, Mathew. Let me put this in perspective.
1996 was a defining year for me. It was my first visit to Hong Kong and my first introduction to the newly available tissue engineered dermal regeneration template, Integra. I do believe in serendipity. I met Gary Fleming, a wonderful Irish salesman, who was responsible for the UK marketing of Integra. Gary worked with me to introduce this tissue engineered product into our Bristol burns service. I was working at that time with a wonderful Senior Registrar in anaesthesia, Amber Young (she was destined to go on to great things in the burns world). I realised that Integra was going to make the concept of immediate and total burn wound excision possible. One terrible weekend we had three ultramajor burns admitted and with the charm of Gary Fleming working overtime on our Hospital Chief Executive, Ann Lloyd, I secured the UK supply of Integra. There was a regulatory irregularity and the Medical Devices Agency gave a letter of no objection to the import of Integra with no limitations on its use. In the USA, the FDA had limited its use to life threatening burns only. This crucial difference really opened up Integra to a whole new role in reconstructive plastic surgery, a story for another day.
With Amber anaesthetising we operated on a patient called Kieron with a 60% full thickness burn: total excision and closure with Integra and then the phone call came through from Exeter. A house fire. The father was in an upstairs bedroom leaning out of a window and passing his son to a fireman who was on a turntable ladder. The father was reaching out as far as he could and then the fire burst through the window of the floor below. Fire is a savage beast when it is awoken, and Mathew, the son, was engulfed in flames. The father and the fireman were also injured. Mathew had 88% BSA full thickness burns. He was stabilised in Exeter and then put on a helicopter and flown to Frenchay. We had the team, we had the theatre, spirits were high and I discussed the situation with Amber and the decision was made that Mathew would be brought straight from the helicopter to the theatre and we would do a repeat total burn wound excision. We did 80% and closed the wound with a mixture of Integra and cadaver skin and left the face. It was a pragmatic decision. It was very important that Mathew survived the first operation and it was my decision to stop at the neck. Mathew was a dream in terms of his response to resuscitation. He did not require any inotropes and his progress was so good that after discussing the situation with the parents and the team we took Mathew back to the operating room on the following Thursday. I excised his face and scalp and with the help of my designated burns assistant Pip Gale we applied Integra to Mathew's face.
It was during the operation that we began to hear reports of unhappiness amongst the ICU nurses. They had been talking to the parents and had been giving a very negative prognosis based on their experience. No child had ever survived such a burn in Frenchay or indeed in the UK at that time. Undisciplined talk had somehow percolated back that we were creating a monster in the operating room. I knew things were getting out of control and knew there was only one person who could speak to those nurses and the parents to put things in perspective: James Partridge. I phoned him up in London and explained the situation. He instantly understood what was happening and told me he was leaving his office and catching the first train back to Bristol. James knew when words were not enough and where action was necessary.
And that is why I feel he was such a special person. He had been to hell and had clawed his way back and he had this unshakable belief that there are no insurmountable obstacles. I wish this story had a different ending. We finished the operation in the mid afternoon and sent Mathew back to the ICU. James was on the train rushing to Parkway Station. When the nurses and the parents saw Mathew, they 'freaked out'. James was still half an hour away and then Mathew, who had been totally stable for a week, crashed and died over the course of half an hour. Pneumococcal septicemia was the PM finding. By the time James arrived Mathew was dead, the parents were angry, the ICU nurses were very unhappy and defensive, and I was devastated. James reacted and responded in a way that only he could. With patience, with true empathy, he helped us all to bring the emotional level down and acknowledge that we were all acting in what we perceived to be the best interests of a young boy. I do have slides of Matthew which I use when teaching about ethics and burns care. The issue was one I discussed with James many times: how do we change attitudes / behaviours in others? Facts or emotions? Oh James, why did you die so young? We had so much more to talk about.
I left Frenchay in 1999 to come to Hong Kong but those years working with James were a revelation. We kept in touch and I mentioned meeting in Cape Town in 2005. The last few pictures of James were taken at that meeting.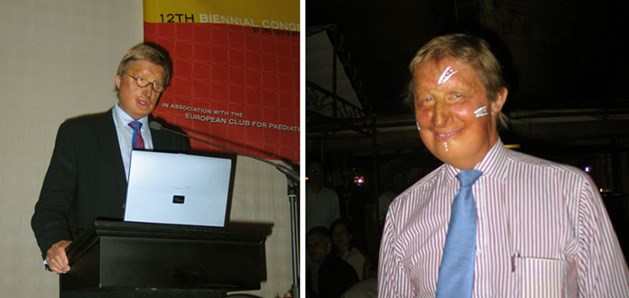 James, the academic, presenting the evidence and James, the wonderfully warm human being with a cheeky grin having received his tribal markings.
James, you connected with people and have made a difference to so many lives. You will be missed. We argued, fiercely and passionately but in the right way, with mutual respect. We never figured out the best way to effect change deciding instead that there is perhaps no single 'best way'. What is important is to keep faith that people can change, and their lives can be better for that. If you, as an 18-year-old, had not had those terrible burns you would still have been a very special person, maybe in business or health economics. But with those scars and your descent into hell you emerged as a person who understands the pain of being different. And the joy of getting on with life with self-acceptance and a refusal to let the pain win.
James, 67 is too young to die. But what a life, what a legacy. You will live on in our hearts. My deepest condolences to your family.
Andrew Burd, Hong Kong, 2 September 2020.
Footnote
* The early years of the DSU involved social interaction skill workshops and these are described in a paper co-authored by Nicola and James (Robinson E, Ramsey N, Partridge J. An evaluation of the impact of social interaction skills training for facially disfigured people. British Journal of Plastic Surgery 1996;49(5):281-9. A pdf version of that paper is available from
https://www.jprasurg.com/article/
S0007-1226(96)90156-3/pdf
For those who are interested in psycho-social rehabilitation, a paper was published in the Burns Journal detailing the outcome of adult burn patients in the DSU (Kleve L, Robinson E. A survey of psychological need amongst adult burn-injured patients. Burns 1999;25(7):575-9. A pdf version of that paper is available from
https://www.sciencedirect.com/science/
article/abs/pii/S0305417999000704?via%3Dihub