Smile Train have been running an interactive billboard in Edinburgh, to raise awareness for cleft. Members of the public queued up for three minutes each in front of the billboard on Castle Street. They then receive a small gift through a hole in the wall, a wave, and a thumbs up. Smile Train used the billboard to highlight that, around the world, every three minutes a baby is born with a cleft.
The PMFA Journal visited the billboard on Tuesday, 10 July, to speak to the organisers.
Emily Oliver, Communications Manager, emphasised the impact Smile Train are aiming to have during Cleft Awareness Month.
Emily said: "It's been incredible. We've had an amazing array of people getting involved and finding out more about Smile Train, and the work that we do. This gesture is brining smiles to the people of Edinburgh."
The billboard was erected to coincide with the 14th International Cleft Conference which is also being held in Edinburgh. The Conference, held at the Edinburgh International Conference Centre, will host attendees and guest speakers from around the world to discuss and share expertise on cleft.
Emily added: "Just down the road we have 1500 delegates from all over the world discussing a very serious issue, and how to improve cleft care for everyone born with a cleft. The condition will affect how children speak, hear and breathe, hence we have the three minute timer on the billboard – to show how common it is."
The billboard, which boasted long queues and enthusiastic participants, was flanked by Smile Train ambassadors. The ambassadors were people for whom cleft had had an impact on their lives.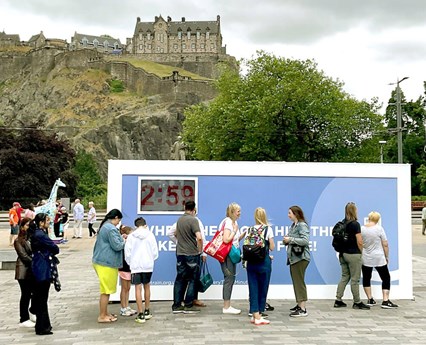 The Smile Train billboard, overlooked by Edinburgh Castle.
Sue has a son who was born with a cleft. She said: "The Conference this year aims to look at the mental and psychological impacts of cleft, and how it affects both children and adults."
On her son, Sue added: "He is starting to become more aware of it, having changed schools and beginning to go through puberty."
Matilda Lansdown, another ambassador, was born with a cleft. A local, she received care at Lauriston Place in the city. There she was treated by Felicity Mehendale, a spokeswoman for cleft care.
Matilda said: "Every three minutes a child is born with a cleft around the world – one in 10 of those might not make it to their first birthday if they don't receive treatment. The availability of healthcare and family education is important – this is why we must raise awareness and money, to help these people."
Matilda has been an ambassador for over six years, and she and Sue have visited several underdeveloped countries to spread the word.
Sue has visited Tanzania twice, and Matilda has been to Ethiopia.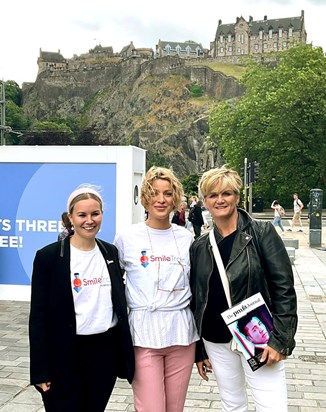 Emily Oliver, Matilda Lansdown and Sue with Smile Train UK.
Sue added: "As ambassadors, we were helped by the NHS. Abroad, people rely on these fundraisers, as people need access to treatment at an early age."
"Going to these places help them maintain their passion for cleft care, and we can have a wider impact by sharing images and videos."
Matilda began communications with people involved in cleft care around the world during the COVID-19 pandemic through Instagram. She is now able to read and discuss from people across countries such as the USA, Brazil, and India, and share her own experiences.
Matilda concluded: "Hopefully I'll be the person to them that I didn't have when I was growing up. I didn't see anyone going through the same thing. Now, I want to go and meet everyone, and help them."
You can find out more information about, and donate to, Smile Train through their website.