SkinViva Training Academy has reached a real milestone, as it's now 10 years since they started out with their first injectable treatments training course.
Building on the success of SkinViva Clinic which opened its doors in 2008, Dr Tim Pearce and team established SkinViva Training in 2013, running courses for medically qualified delegates who were keen to venture into the world of aesthetics. Fast forward 10 years, and they've now trained over 7,500 delegates from around the world; even from as far as Australia, Brazil, and the USA, sharing the excellent skills and techniques that built SkinViva Clinic's own success. They've enabled countless delegates to embark on a new career, many of whom now work full time in aesthetics.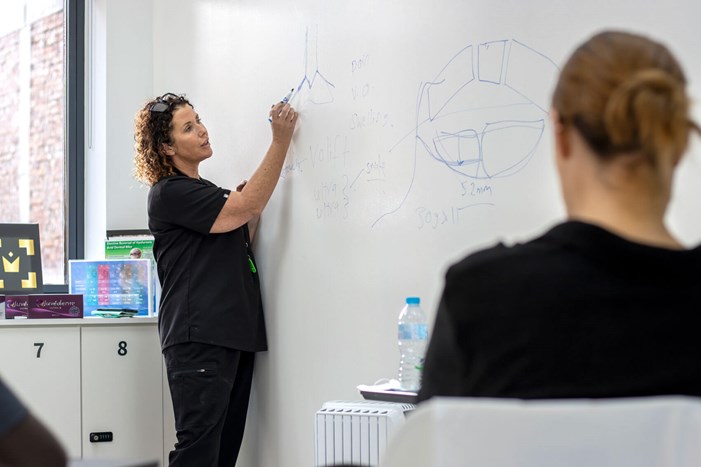 Founder, Dr Tim Pearce, says of the achievement: "When I think of all the truly amazing aesthetic clinicians who have passed through the Academy's doors these last 10 years, injectors who have gone on to create safe, patient-centred, thriving clinics, it makes me immensely proud."
SkinViva Training's prestigious Manchester centre currently provides around 25 separate training courses each and every month. They've expanded their services over the years, so as well as learning injectable treatments from foundation to advanced level, delegates can also enjoy skincare training, live clinic observation, dermatology workshops and cadaver courses, to build their skills and confidence even further.
The SkinViva Training Academy consistently receives outstanding reviews from delegates on Trustpilot and Google. They've got a lot to shout about and should be incredibly proud of their 10-year anniversary achievement.
Head of the Clinic & Academy, James Ashton, commented: "Skin Viva is a fantastic place to work, I'm so proud to be part of a team that has such high standards, and where there is so much knowledge and expertise present. We really are at the absolute top of our game in every facet of aesthetics, and we're only just getting started."
To mark the occasion, some of their staff share what they think makes SkinViva so special, and it's not hard to see how enthusiastic their team of experienced and friendly people are about the company!
Here are a few quotes from their team:
Nurse Leanne introduces the video: "So the one thing I like about working at SkinViva is the fact that there's so many of highly skilled knowledgeable clinicians."
Marketing Manager Amy says: "One thing I love about working at SkinViva is I get to be creative every single day and to get our Clinic and Academy out there in the world."
Abi explains how satisfying positive patient feedback is: "One thing I love about working at SkinViva is hearing the amazing feedback from our clients about how confident they feel after the treatment."
Kadie has worked in admin for a few years. She says: "I like working at SkinViva because we're all one big family and it's a really relaxed working environment"
Listen to more great quotes when you watch the video in full:
The team behind the Academy and Clinic regularly post educational updates and information on their social and YouTube channels, and informative blogs on their website – so be sure to visit them for more information and to take a look behind the scenes of an established training academy and clinic!
Instagram: @skinvivatraining, @skinviva
Facebook: @skinvivatraining, @skinviva
YouTube: @skinvivatraining, @skinvivamanchester
For further information, or to discuss which course is right for you, please call 0161 850 2491, or email info@skinvivatraining.com.