And there was me thinking Hong Kong is in a bit of a political mess! What an extraordinary few weeks in the UK as far as medicine is concerned. After months of insisting that he, The Right Honorable Jeremy Hunt, was imposing a new contract on the Junior Doctors in England, Clive Sheldon QC, representing said Secretary of State for Health argued in court that it was all a misconception. Yes, Jeremy Hunt lied in Parliament but MP's can do that. He lied to Jon Snow, the veteran TV presenter, and that is a far more serious matter, but the truth is that the media in Britain has become a rather toothless or should I say, spineless and spent force. I have been privy to the discussions amongst the junior doctors who are basically a very bright, committed group of people and it is very depressing to realize how justifiably disillusioned so many have become with life in the NHS. There are fears though that this is all part of the plan in the great NHS sell off.
There is no doubt that Jeremy Hunt is a puppet but the problem is few know the identity of the puppet master(s). And when you talk about collusion it would appear that the British Medical Association and shadowy senior medical figures are playing their part in keeping the juniors in the dark and under control. This is not good. It is not good for patients, for the profession, or for the future of the NHS. But what can be done about the sad and sorry state of affairs? Youtube videos can clearly and unambiguously show that Clive Sheldon QC was misleading the court in his statements (https://youtu.be/9yULgAmJh-8). This is unacceptable from a person supposedly representing the Government. And Justice Green has shown himself to be out of touch with reality to believe the shady Queens Council. Let us be quite clear: just because a Judge says it is so does not necessarily mean that it is so! That is one of the reasons for Appeal courts. When Judges get out of hand it is up to the Lord Chancellor to bring them back into step.
My first experience of the vagaries of the UK Judiciary was in Cardiff Crown Court. It was a most gloomy place. I hardly think it could have changed since the days of Judge Jeffrey, the infamous "Hanging Judge". Google him, it will give you goose bumps but also it will give you an idea of the reality of an 'independent' Judiciary. (https://en.wikipedia.org/wiki/George_Jeffreys,_1st_Baron_Jeffreys)
I was an expert witness in a case of child abuse by burning. The accused is entitled to have legal representatives to argue on his behalf in the adversarial trial that is supposed to epitomise justice in the UK. They could not get any experts from Wales to advise the defendant's legal team. Child abuse is a highly emotive topic and where feelings are running high it would understandably not look good for a local plastic surgeon to appear to be on the side of the defendant. None of this 'innocent until proved guilty' idealism. Yes, I sound a little cynical but briefly, the Judge had caused a national scandal by his cavalier comments suggesting that a rapist should give his victim a few hundred quid to go to Club Med to forget all about it. That did not go down well with a very significant proportion of the population and so Mr Justice Prosser had to present himself to the Lord Chancellor for a ticking off.
Of interest the current Lord Chancellor is, wait for it, a woman. Yes, Elizabeth Truss, MP, who is also the Secretary of State for Justice. I wonder what she would have made of old Justice Prosser. Who knows what words were exchanged back then in the previously all male sanctum, behind closed doors, and off the record. Whatever the case the rebuked Judge returned to Cardiff with a black fire burning in his soul. Rumour has it that he discussed his employment problems with a dining chum (I think they might have been Lodge brothers but I welcome clarification on that) who was a renowned medical expert often used by the prosecution. This medical expert had just been completely humiliated in a high profile child abuse case in England and was out for blood, to re-establish his credentials. He had made very disparaging remarks about parents whose children went to the Accident and Emergency Departments with accidental injuries. On cross examination he was beautifully led into an ambush from which there was no recovery; they led him to admit that he had recently had to take one of his own children to an Accident and Emergency Department. There was also the double level of burn in the legs. This is a brilliant observation that is very much open to interpretation. In such cases we are looking for all additional information to weight the balance of probability of the cause. He was blinded by prejudice; the defendant was from Wales and I do believe there was some connection with the Cardiff Five. The 'expert' was blown out of the sky and reprimanded by the English Judge.
So we have a High Court Judge and a medical expert who are fighting for their careers and reputations. Are they going to ensure a fair trial for a mentally challenged young man from the Valleys who had been taken in by a mother of three? It was a miserable, and rather typical cold, wet, winter day and two children had to go to school. Mum normally took the baby in the pram but Tommy offered to look after the baby. He was a simple guy but had enough decency to try to help. He had run himself a bath and was waiting for it to cool down. That is an illustration of "Valleys logic" which is an indirect indication of his somewhat challenged intellectual functioning. I mean no disrespect to the wonderful people of Wales by this remark by the way, it is just that Tommy was not the brightest of young men. The baby started to cry. He did not know what to do but then his nose told him the problem. He had never changed a nappy before but he had watched a couple of times. He knew there were two sticky release tapes and he undid them and lifted Laura up and free from her soiled nappy. But he had not thought about the next step and realized he was holding up a baby with a soiling over her legs and bottom. He was holding Laura at arm's length. He had a grasp of her chest under her armpits. He walked into the bathroom and realized that she was "dripping". He panicked and there was a bath full of water. He did not think; he just did not think. He was not an 'Evil Monster' as described by the Judge. He was not gifted with intelligence and he swished the crying baby in the water to clean her. He did not test the temperature of the water. He did not think. The baby cried even more and he towled her dry and put on a new nappy and then emptied the bath of stained water and sat down exhausted. And the girl's mother returned home.
It was my introduction to British Justice and it was abhorrent. I cannot tell the full story now but if you have doubts let me reassure you it is real; follow this link http://sixthformlaw.info/01_modules/mod1/1_4_legal_personnel/1_4_1_judiciary/10_judges_naughty.htm and scroll down until you find Judge John Prosser R v W (1993). He had been caught being soft and had to demonstrate more spine. So what better than a case of child abuse with a guilty young man. And just look at how the media massaged the story for the public: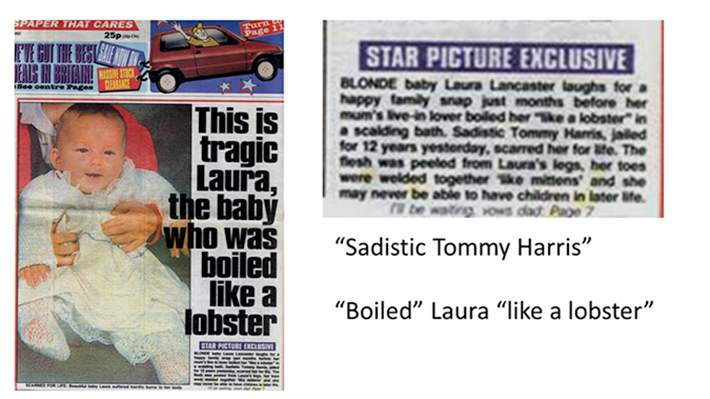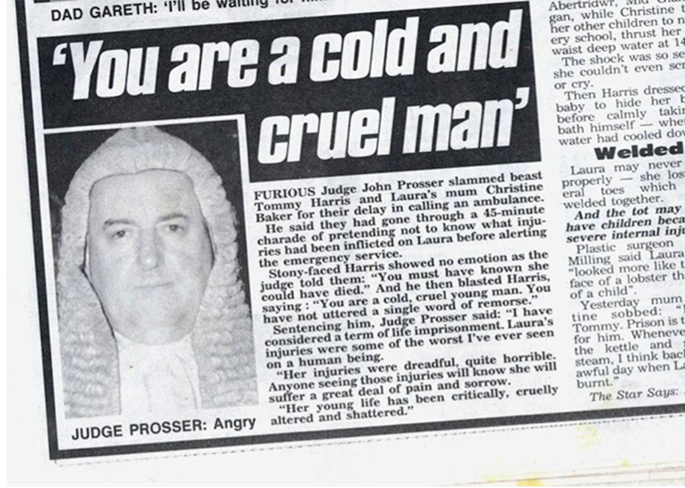 I think there was only one cold, cruel and sadistic man in that court and it was not the defendant. Justice Prosser would or should have known that he was sentencing this young man to death. If he did not die in the 'criminal justice system', that is the one run by the criminals, then the necessary solitude to ensure his physical safety would have destroyed his will to live and suicide would almost certainly follow. A young man of limited intelligence who had tried to do something to help and it all went very wrong. He had no idea what was going on. To be labelled a sadistic, evil killer is not a good reference for the British penal system. I do have some background on this because the instructing solicitor's clerk went to school with Tommy and knew him to be a bit slow but completely harmless. Oh and Laura became my patient in Frenchay and was one of the children who benefited from my pioneering use of tissue engineered skin in scar reconstruction. Small world.
So back to the Lord Chancellor. She should speak with Mr Justice Green about his politically very inflammatory views. By siding with the government, he was making statements and assumptions that absolutely fly in the face of the recorded and objectively verified evidence. Clive Sheldon was a train wreck whose pronouncements in the face of the objective, verified, evidence were equally shameful. The strikes, the protests, the letters, the interviews in the media, the press statements; they never happened, in the fairy, fairy, land of Jeremy and Clive.
We aspire to evidence-based medicine. Why not evidence-based Law?? What was delivered was politically-based law. This is not impartial. And runs counter to all of the key principles of law and legal ethics. It is a disgrace. And for Hunt's lawyers to claim £55,000 in costs for lying to the public in court is a scandal.
You do have a voice and you can speak out: http://www.parliament.uk/get-involved/ give Elizabeth Truss a chance. Let us see how she responds to this very real expression of concern about the independence of the judiciary and the integrity of the legal system?
Let me wrap up this rather long blog with reference to the really excellent publication, Good Medical Practice, which is how the General Medical Council expects us to behave, both ethically and professionally.
Good Medical Practice; the Ethical basis for Professional practice. Paragraph 25b, it is your duty, your professional duty, to report concerns about patient safety. The GMC regards that as Good Medical Practice. If any employer disciplines or fires a doctor because they are following GMC guidelines, then the GMC must become involved.
Point two. Para 72 of good medical practice. "You must be honest and trustworthy when giving evidence in courts or tribunals." Considering the atrocious lies and deceptions coming from the QC representing the Right Honourable Jeremy Hunt one can only assume that the legal profession is not held to such high ethical standards as the medical profession. As such I challenge the right of the legal profession to make any judgements regarding the probity, the dignity, the honesty and integrity of members of the medical profession.
Postscript: It is my duty, as a citizen, to question the practice of law. This is ever more so if I see the law being used to obstruct justice rather than deliver, justice. I believe in the Universal Principles of Law as stated by the World Justice Project (http://worldjusticeproject.org/what-rule-law ). Perhaps the first principle is one of the most important: The government and its officials and agents as well as individuals and private entities are (all) accountable under the (same) law. (My additions in italics).