A Death in Hong Kong: an evolving essay and insight into medicine and the law in contemporary Hong Kong (part six)
I presented my 'sanitized' statement to the Hospital Investigation Panel. They had already interviewed Dr David Wong. I discovered later that he had changed the account of the fictional assault with tales of post-traumatic stress disorder and ongoing fears for his safety. This is not a situation that a Gweilo wants to find themselves in. The concept of the 'Rule of Law' in Hong Kong is wishful thinking as I was to discover to my devastating cost.
The Hospital Investigation Panel took no notice of my statement; they took no notice of the changing allegations of Dr Wong or their physical impossibility; they altered the statement of a junior staff member to say that she heard shouting in the room when she did not. It was shameful and with no evidence, no witnesses they decided to substantiate the allegation!
I heard the news in January of 2013. I felt numb. This was unreal. I phoned Chris Howse who became very defensive and blustered and prevaricated. I said that an appeal was essential. Chris was not interested. I contacted the MPS. They allocated another solicitor, Oonagh Toner who began, as Bernard had, in a robust way. She engaged the services of Gerard McCoy, SC, QC, to review the hospital investigation procedures, policies and findings and he was scathing in his comments. In a detailed critique, he said the whole process was far below the standards expected in law.  The members of the investigation panel were grossly incompetent and had demonstrated no understanding of due process and the findings were fundamentally flawed and an appeal was mandatory (this is all documented).
I was delighted and reassured. I then insisted that an appeal would have to include the revelation that Dr David Wong Sua-yan was a completely unreliable witness with a history of dishonesty, fraud and deception. But the MPS said that they would not fund an appeal if Dr David Wong was going to be criticised in any way. It was only at this very late stage that I discovered that he had been appointed as an MPS Associate the previous year. The year in which he had suddenly changed from being annoying but tolerable to an extremely dangerous person, first with widely spread defamation and then with his malicious and false allegation.
The Hospital Authority, true to form and expectation, was in a complete muddle as to what to do. They prevaricated and prevaricated about the appeal but eventually agreed to set up an appeal committee comprising three hospital governors (so hardly independent). By the time I heard that the appeal was to proceed, my tenure had expired and I had had to forfeit my large research grant. An offer of part-time teaching was withdrawn and I was made to feel like a Pariah.
Then the funding was withdrawn by the MPS and I was left to fend for myself. The appeal panel had decided to start a new investigation as the previous investigation was fundamentally flawed. I sent them the full details of the background to Dr Wong Sau-yan. But they continued to prevaricate. I was still under investigation for an allegation of physical assault.
2013 became 2014 and then, purely by chance I read in the news that the inquest into the cause of death of Zoey Leung had been re-opened and that the coroner had issued a verdict of death by misadventure. I read the report in the paper with a growing understanding of how corrupt the law is in Hong Kong.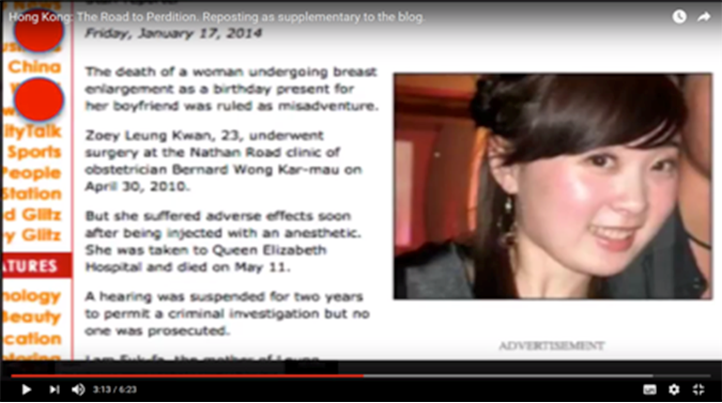 I was making YouTube videos at the time to record what was going on and in this one entitled: "Hong Kong; the road to Perdition." I shared my utter dismay and disbelief in finding this short report in the Hong Kong Standard, dated Friday January 17, 2014 (https://youtu.be/ijh0wTk9ojk).
The coroner had ruled the death as misadventure. The reasons being? Let me quote from the report,
"Coroner Michael Chan Pik-kui ruled out any suggestion that Leung was illegally killed. Chan said the court could not rule that the doctor had failed to perform his duties nor could death be described as manslaughter as experts gave conflicting views on whether the amount of anaesthetic used had exceeded the reasonable limit, and whether the emergency life-saving facilities in the clinic were sufficient."
The report continued with these rather enigmatic words:
"Referring to a suggestion by Andrew Burd, the former head of plastic, reconstructive and anesthetic (sic) surgery at Chinese University, Chan said there are no regulation governing such (cosmetic) surgery procedures.
He said there should be an independent mechanism to investigate such incidents and regular evaluations of the doctors involved as well as life-saving facilities at clinics.
Furthermore, the commissioner of the Fire services Department should investigate if the current supply of endotracheal tubes is sufficient.
In his expert report, Burd said the clinic did not have the necessary facilities to conduct such operations and Dr Wong Kar-mau had not weighed Leung to determine the exact amount of anaesthetic required.
Leung's mother accused Wong of being the 'murderer' who is going unpunished and said her daughter's death was man-made."
Zoey's death was man-made. I think that in the bigger picture I was collateral damage for an unethical and unprofessional law firm that was pursing profit at the expense of justice. I believe that the solicitors involved were deliberately obstructing the course of justice through the presentation of misleading and factually inaccurate expert opinions. If these opinions had been challenged in the criminal court or even in the coroner's court, they would not have held up to scrutiny. The challenge would have come from me and so I had to be 'destroyed'.
David Wong Sau-yan and Chris Howse continue their professional relationship. On 4 November this year the HA Centrally Commissioned Training for 2016-7 was 'Legal Issue for the Medical Practitioner'. The adviser was Prof Paul BS Lai; the organiser was Dr David SY Wong and amongst the guest speakers were Gabriel K Choi, aka Choi Kin, Chris Howse and David Kan from HWB. Five people who have figured in a very negative way in this sad and sorry tale of an unlawful killing in Hong Kong. Joseph WY Lau, Chairman of the Medical Council of Hong Kong was also included and he is a person I respect, as is Christine Tsang of Kennedys.
I wonder how different things might have been if Christine had not been so ethical? It was her conflict of interest concerns that drove me unwittingly into the Lion's den.  Chris Howse, either as the opportunist or the ultimate schemer made sure of my professional destruction in Hong Kong so that he could win his case. Nothing personal, just collateral damage.