In the rapidly evolving world of medical aesthetics, a dedicated team of four highly-skilled practitioners has stepped forward to fill a crucial gap in the industry.
We are thrilled to announce the launch of the Medical Aesthetic Prescribing Programme (MAPP), a groundbreaking initiative designed to provide comprehensive education and support for aesthetic nurses aspiring to become prescribers.
Founded by a visionary quartet of multidisciplinary prescribing professionals, Dr. Sunny Dhesi, Ms.Amy Lamb, Ms.Helen Summers and Mr Vivek Kuvelker, MAPP is set to revolutionise the landscape of aesthetic nursing by empowering nurses considering or already undertaking their V300 prescribing course at university, or embarking on their journey as newly-qualified prescribers.
"Our collective experience revealed a lack of adequate support for nurses aspiring to become prescribers," said Dr. Sunny Dhesi, a respected cosmetic doctor and GP. "We recognised the need for a dedicated platform to foster education and foster a supportive community of aspiring prescribers, and thus, the Medical Aesthetic Prescribing Programme was born."
MAPP offers a comprehensive online course that encompasses all aspects of medical aesthetic prescriber training, equipping participants with the knowledge and skills necessary to excel in their roles. From practical guidance on the V300 prescribing course requirements to insights on best practices in the field, MAPP ensures that every participant receives the guidance they need to succeed.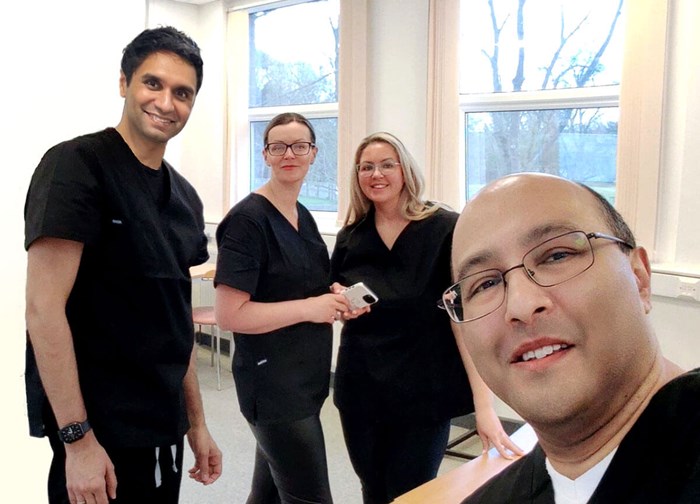 (left to right) Dr Sunny Dhesi, Amy Lamb, Helen Summers and Vivek Kuvelker
"We believe that supporting aspiring aesthetic nurses in their prescribing journey is not only vital for their personal growth but also contributes to raising the overall standard of care in the industry," said Amy Lamb, an accomplished aesthetic nurse prescriber and V300 supervisor. "With MAPP, we aim to set a new benchmark for excellence in medical aesthetics."
Helen Summers, esteemed aesthetic nurse prescriber and V300 assessor, added: "Our program's multidisciplinary approach sets it apart. We bring together experts from various fields to provide a holistic learning experience, which is unparalleled in the industry."
The founders have created an online community through their Instagram and Facebook pages, which serve as a hub for MAPP's participants to connect, learn and exchange ideas.
They are fostering a collaborative and inclusive space where members can access valuable resources, engage in discussions, and stay updated on the latest industry trends.
MAPP aims to empower nurses to reach new heights in their careers while fostering a culture of continuous learning and excellence. With their combined expertise and dedication, the founders are excited to welcome aspiring prescribers into this pioneering initiative.
To learn more about MAPP and enroll in the first online course, please visit www.mapp.org.uk