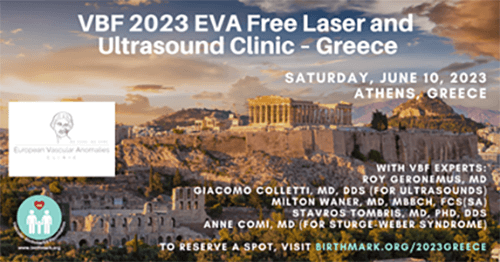 The Vascular Birthmarks Foundation (VBF) is proud to announce the 2023 VBF Free Laser and Ultrasound Clinic – Greece, on Saturday 10 June, in collaboration with host Stavros Tombris, MD, PhD, DDS, Director of the EVA Clinic, and Candela Medical, a leading global manufacturer of energy-based devices.
The event is sponsored by Barr Linton and his family, and will be preceded by the VBF Port Wine Stain Birthmark Research Conference, a continuation of the VBF/ASLMS Laser Guidelines project that was recognised at the ASLMS Meeting in Phoenix, AZ.
"Thank you to Dr Tombris for the use of the EVA Clinic for our VBF free clinic. We would also like to thank Linton Barr and his family for sponsoring this event, and Candela Medical for donating equipment and for continuously supporting VBF's mission," said Linda Rozell-Shannon, PhD, President and Founder, VBF. "This free clinic will provide both help and hope to our VBARS community in Europe. No matter what is happening in the world, the need for an accurate diagnosis and appropriate treatment plan does not stop."
The clinic will offer free laser and ultrasound services to children and adults living with a vascular birthmark, anomaly and / or related syndrome (VBARS) and free consultations for Sturge-Weber Syndrome (SWS) and Klippel-Trenaunay Syndrome (KTS). The treatments will be performed with Candela's Vbeam Pulsed Dye Laser (PDL) which is considered the gold standard for the laser treatment of port wine stains and other vascular anomalies.
"Candela is ever grateful for the tremendous work the Vascular Birthmarks Foundation does. We are honoured to support the many physicians and the teams that help improve the lives of patients using Candela's VBeam 595nm technology," says Konika Patel Schallen, MD, Senior VP, Clinical Operations and Medical Director at Candela Corp. "We are committed to developing innovative, transformational technologies that treat serious afflictions impacting individuals regardless of age and skin type from around the globe."


FURTHER INFORMATION