The UK's leading polynucleotide distributor DermaFocus has added an innovative new product to its portfolio to complement its existing regenerative range.
NEWEST is a unique polynucleotide-based product that also contains hyaluronic acid – enabling practitioners to transform damaged and aged skin, while regenerating fibroblasts for continuous improvement in skin quality.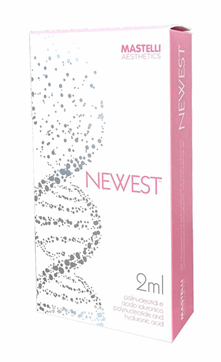 Created by renowned Italian manufacturer Mastelli, NEWEST can be used on the face, neck and décolletage, while there is also a separate product – NEWEST One – designed specifically for use on the body, which will be available soon.
NEWEST combines highly-purified polynucleotide technology, known as PN-HPT®, with non-crosslinked hyaluronic acid and mannitol. The mannitol has been clinically proven to reduce the degradation of the hyaluronic acid by 34%.
Together the ingredients in NEWEST have the power to regenerate fibroblasts that leads to increased collagen and elastin production thanks to the PN-HPT®, while the hyaluronic acid hydrates and revolumises the skin.
NEWEST is an excellent treatment option for acne, scarring, and more significant levels of skin damage and ageing. One study showed that skin elasticity improved by 39.6%, skin brightness was enhanced by 51.1% and wrinkles and skin roughness declined by 17.1% after three treatments with the product.
There is 20mg of PN-HPT® and 20mg of hyaluronic acid in each 2ml NEWEST syringe; making it a powerful and effective biostimulation tool. Patients are advised to undergo one session every two to three weeks for a total or three or four sessions – depending on the extent of their concern – for optimum results.
NEWEST is a cruelty-free product.
Consultant plastic surgeon and aesthetic practitioner Dr George Christopoulos said, "As aesthetic practitioners, we already appreciate the effectiveness of hyaluronic acid and have noticed how the recent introduction of polynucleotides to the UK has taken the aesthetic market by storm. Patients' growing awareness of regenerative treatments is driving demand in clinics across the country.
"I'm therefore really excited to introduce NEWEST – a biostimulation tool that combines both hyaluronic acid and PN-HPT® – to patients; the product has been hugely successful in Italy and clinical studies confirm that it can effectively tackle concerns and truly transform skin quality."
FURTHER INFORMATION
Dermafocus
T: +44(0)203 994 1666
E: info@dermafocus.co.uk