Event Details
Date: 1 November 2019
---
Location name: London, UK
---
Location address: Royal Society of Medicine, 1 Wimpole Street, London, W1G 0AE
---
---
Click to view dynamic map
By Prof Ray Clarke
Birmingham and London ENT/Thyroid surgeon, Mr John Watkinson, delivered the Semon Lecture in London at the RSM in November 2019. Perhaps the most prestigious eponymous lecture in laryngology, the 'Semon' recalls Sir Felix Semon's contribution to British Medicine. Mr Watkinson presented a fascinating talk – 'From Felix to the Helix, and from the Cradle to the Grave - Semon's contribution to Thyroid Surgery'. The focus was on Semon's life and times, and in particular was a scholarly analysis of Semon's less well-known work on thyroid pathology. Thyroid surgery is now largely the province of otolaryngologists/head and neck surgeons, and Mr Watkinson paid tribute to the sterling work done by Semon's successors in recent times, including Omar Shaheen and Tony Bull, who brought thyroid surgery into the modern era.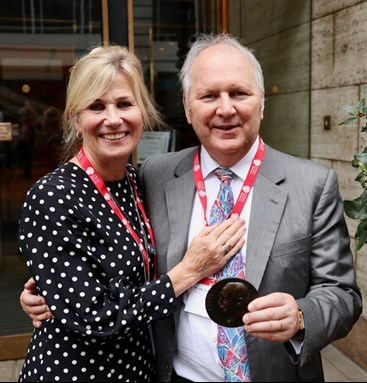 A proud moment for John Watkinson and his wife Esme, as she congratulates him following his Semon Lecture at the RSM in November.
PREVIEW
Join Professor Tim Woolford in his Presidential Address to hear about the importance of surgical training not only for trainees, but also for the trainer. At this year's Semon Lecture, Mr John Watkinson will talk about Semon's contribution to Thyroid Surgery.
Professor Woolford will give a lively and personal reflection of his career as a sub-specialist facial plastic and reconstructive surgeon and explain why being a surgical teacher has improved the quality of his patient care and surgical outcomes. He will also describe key lessons learned from performing several hundred facial plastic and reconstructive surgery cases.
This year's Semon's lecture, entitled 'From Felix to the Helix, and from the Cradle to the Grave – Semon's contribution to Thyroid Surgery', will be given by the prestigious Mr John Watkinson, Honorary Paediatric ENT, Head and Neck and Thyroid Surgeon at l Great Ormond Street Hospital.
This event is free for all RSM members.
On the same day, in the afternoon, there will be the Joseph Toynbee Memorial Lecture and Presidential Address from the Otology Section, also free for RSM members.