Event Details
Date:
16 October 2020
- 18 October 2020
---
Location name: London, UK
---
Location address: Royal College of Physicians, 11 St Andrews Pl, London NW1 4LE
---
---
---
Click to view dynamic map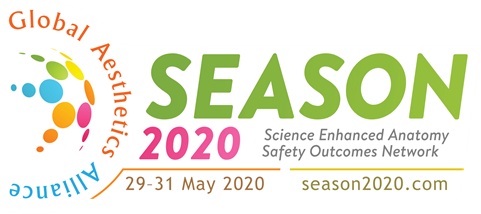 SEASON 2020, the inaugural conference of the Science Enhanced Anatomy Safety Outcomes Network, in collaboration with the 3rd congress of the Global Aesthetics Alliance, will take place at the Royal College of Physicians in London, a historical landmark, inspiring testament to the progress of medical science over the past 500 years, and a living museum of extraordinary power and beauty. SEASON 2020 also features a full day of advanced anatomical and procedural training at Guy's Hospital, a renowned teaching hospital and centre for medical and surgical innovation since 1721 that, together with St Thomas' and King's College Hospitals, comprises the King's College London GKT School of Medical Education.
SEASON 2020 is a premier programme of evidence-based, non-commercialised education – including advanced, hands-on anatomical training – that is co-badged with the British Association of Dermatologists (BAD), aligned with the cosmetic curricula of the BAD, British Cosmetic Dermatology Group (BCDG), British Association of Plastic, Reconstructive and Aesthetic Surgeons (BAPRAS), and British Association of Aesthetic Plastic Surgeons (BAAPS). The course content of SEASON 2020 maps directly to the components of the General Medical Council-approved curricula for Procedural Safety, Management of Complications for Nonsurgical Cosmetic Procedures, and Facial Anatomy.
The larger initiative of which SEASON 2020 is a part, the Global Aesthetics Alliance (GAA), was founded as a not-for-profit scientific exchange to advance procedural safety and outcomes in aesthetic medicine, identify unmet research needs, and foster responsible media reporting in aesthetics.
The primary objectives of SEASON 2020 are to promote evidence-based medicine and scientific excellence. The meeting will also strive to address the increasing diversity of our patient populations with respect to ethnicity, gender, culture and age, and how this diversity impacts treatment planning and outcomes. In reflecting these objectives, SEASON 2020 has some unique features with respect to its logistics, format and agenda:
Like the Conference Directors, all invited faculty are actively engaged in academic teaching and most have academic appointments at universities, teaching hospitals or plastic surgery and dermatology academies. Our faculty have been specifically selected for their commitment to evidence-based medicine, non-promotional and fair-balanced education, and clinical integrity.
Every scientific session at SEASON 2020 is designed based on a Statement of Unmet Educational Need and evidence-based Learning Objectives. The conference agenda is novel, relevant and exciting for today's practitioner, encompassing cutting-edge concepts and innovations in aesthetic standards of care and best practice.
The final day of SEASON 2020, on 31 May is the Global Aesthetics Alliance Summit, which brings together physicians, scientists and media reporters to discuss procedural safety, technological innovations and other key topics. This is an interactive forum for debate, dialogue and consensus, during which every voice in the room counts. Attendance at the Summit is offered free of charge to all delegates who register for Days 1 and 2 of SEASON 2020 on 29 and 30 May.
Participation of industry in SEASON 2020 is by invitation only, and limited to companies and laboratories that are dedicated to procedural safety, evidence-based education, and scientific research. Companies and laboratories serve as conference partners rather than sponsors, by providing educational grants to help defray conference expenses.
Like the previous GAA conferences, SEASON 2020 is a new way forward in education within our field – a stellar global faculty with academic and scientific priorities who will catalyse an unsurpassed, interactive agenda of learning and sharing with no hidden commercial conflicts of interest.
SEASON 2020 Conference Directors:
Hema Sundaram, MA, MB BChir, FAAD
Tamara Griffiths, MD, FRCP, FAAD
Dalvi Humzah, MBBS, FRCS
Thomas Rappl, MD