Event Details
Date:
19 September 2020
- 20 September 2020
---
Location name: VIRTUAL
---
---
Report

By Irina Garlea-Robu, ENT Specialty Doctor, University Hospitals of Derby and Burton NHS Foundation Trust, UK.
In unprecedented times, the 43rd annual conference of the European Academy of Facial Plastic Surgery (EAFPS) became the world's first entirely virtual conference dedicated to facial plastic surgery, complete with CME accreditation. Organisation was led by EAFPS Board members, Fazil Apaydin and Jose Carlos Neves, with collaboration from the remaining Executive Board and Scientific Committee. Professor Hesham Saleh, President of EAFPS, inaugurated the conference.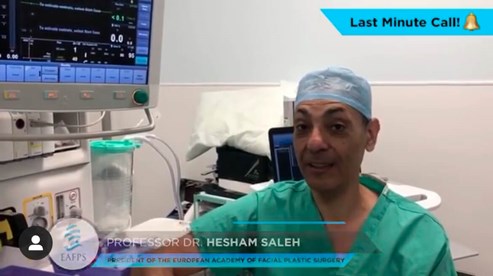 The virtual format allowed four virtual rooms to run parallel sessions over two days. Live discussion was facilitated at the end of each session, with the online platform allowing more opportunity for participant interaction than during a traditional conference.
More than 900 delegates from all around the world attended the meeting virtually. From a trainee perspective, it was an amazing opportunity and experience to listen the lectures of the expert surgeons on rhinoplasty, facial rejuvenation, facial trauma and reconstruction, facial aesthetic medicine, otoplasty and oculoplastics. All content was recorded and participants were able to access more than 250 videos for a month after the conference; perfect to catch up on any missed talks and replay key concepts.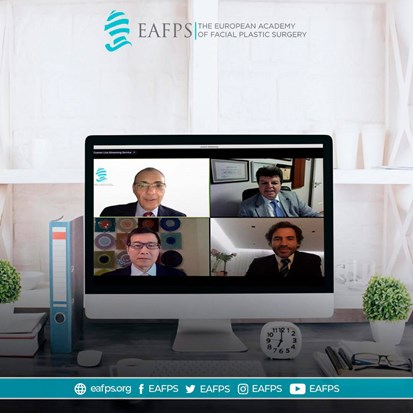 Top L-R: Prof Hesham Saleh, Professor Dean Toriumi
Bottom L-R: Fazil Apaydin and Jose Carlos Neves.
The Joseph Lecture, the most prestigious lecture of EAFPS, was given by Dean Toriumi of Chicago, USA, on precise control of nasal tip position using structural techniques; a masterclass of innovation in this key area of rhinoplasty.
Day one ended with a virtual soiree for a social catch-up with colleagues and friends from across the globe: an element of conferences that has been sorely missed in the COVID-19 era.
The next meeting is scheduled to be in Nice, France, in September 2021, when, if circumstances allow, we hope to be able to reconnect in person with facial plastics colleagues from around the world.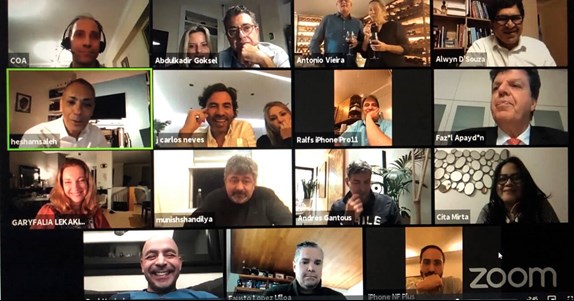 Virtual cocktail party held after the meeting.