Event Details
Date: 27 September 2021
---
Location name: Windsor, UK
---
Location address: Castle Hotel Windsor,
18 High Street,
Windsor,
SL4 1LJ,
UK
---
---
Click to view dynamic map
REPORT
BY DR NESTOR DEMOSTHENOUS
On 27 September 2021 the Cutera University Clinical Forum (CUCF) was held at the Castle Hotel in Windsor.
The event opened with an introduction from Cutera's UK and Ireland Country Manager, Tim Taylor, who thanked his team and customers for helping to establish Cutera as a major device player in the aesthetic medicine market. He shared with delegates his vision for the future and described how Cutera will continue to focus on helping every client develop and grow their practice
further. He expressed his hopes for a great day of education on Cutera's various aesthetic devices.
Aesthetic Doctor, Dr Tatiana Lapa began the morning session with a discussion on a new layered approach to skin rejuvenation which included a live demonstration of the Secret Pro radiofrequency microneedling device with combined CO2 laser. She outlined the treatment protocol for using the device as well as explaining patient case studies from pigmentation issues, acne scarring and sun damage with different ages being shown.
A talk on 'Capitalising on Patient Demand with Radiofrequency Microneedling' by Aesthetic Practitioner, Dr David Eccleston, took place next, followed by Aesthetic Practitioner, Dr Julia Sevi, who discussed energy-based skincare combinations. Dr Sevi outlined her own patients' skin journeys using a combination of the Cutera devices along with the SkinCeuticals skincare protocol. She explained, "Consistency and commitment are key. Writing a plan for your patient is ideal as they will see an improvement in their skin." A Q&A session ended the morning section of the event.
After an hour lunch break, the afternoon kicked off with Dr Tapan Patel speaking on 'Filling the Gap with Injectable Treatments'. He outlined his own experiences when choosing a device for his clinic and to look for quality rather than price when making a decision. Business Coach Alan Adams shared his business tips for building and running a million-pound clinic, whilst I had the privilege of sharing my experience with Cutera's TruBody nonsurgical body sculpting devices. A live demonstration was also incorporated into the talk. The final talk was by Aesthetic Practitioner Dr Anna Hemming who outlined her considerations when introducing aesthetic devices into your clinic and her own experiences in doing this. A final Q&A session ended the event.
It was a great day with the perfect balance of relaxed-education and fun networking.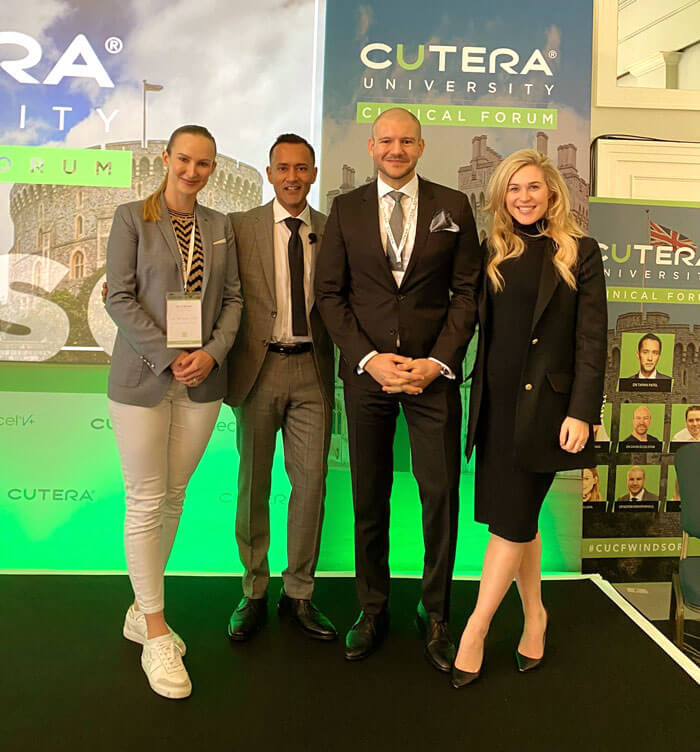 Dr Tatiana Lapa, Dr Tapan Patel, Dr Nestor and Nurse Amanda Wilson.