Event Details
Date:
16 September 2022
- 18 September 2022
---
Location name: London, UK
---
Location address: Queen Elizabeth II Centre, Broad Sanctuary, London, SW1P 3EE
---
Contact: Sylvie de Salvador, Nice Evenement & Congres
---
Tel: +33 6 11 52 24 25
---
---
---
Click to view dynamic map
Preview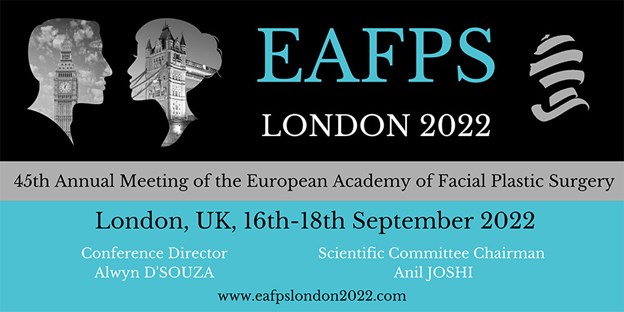 EAFPS London 2022 will take place at Queen Elizabeth II Centre, a very popular location just opposite Big Ben clock tower and Westminster Abbey. Organised by Alwyn D'Souza, President of the EAFPS and Conference Director, and Anil Joshi, Chairman of the Scientific Committee, this three-day event will bring together the biggest names in rhinoplasty and facial plastic surgery in an exceptional faculty of over 150 members.
The very academic programme will include 22 hours of comprehensive lectures, recent advances and innovations in three simultaneous rooms. On top of the traditional Tonybull Award and the Joseph Lecture, the programme combines 64 sessions, 18 panels and six video sessions. Time has been specially dedicated to discussion.
The main themes of the talks will be aesthetic medicine, cosmetology and facial plastic surgery as well as other allied procedures relating to facial aesthetics.
We would be delighted and privileged with your participation to EAFPS London 2022 and are looking forward to seeing you in London for a high-quality scientific content meeting, in a friendly, enjoyable atmosphere. 
Future meeting details: 46th EAFPS Annual Meeting, Verona, Italy, September 2023.