Event Details
Date:
27 February 2020
- 29 February 2020
---
Location name: Bremen, Germany
---
Location address: Dorint Park Hotel Bremen, Im, Bürgerpark 1, 28209 Bremen, Germany
---
---
---
Click to view dynamic map
Live Surgeries, Minimally Invasive Workshops and Scientific Lectures
Congress President: Prof Dr med C Can Cedidi from Bremen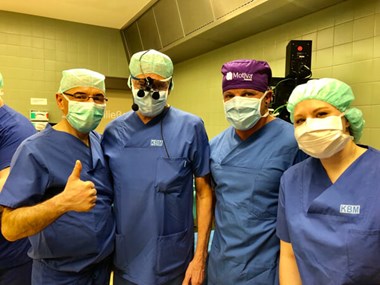 After the great success of 2019 with almost 200 participants from 14 countries we are looking forward in 2020! Once again, more than 20 leading experts and surgeons from Germany and abroad, will present standards, new trends and developments in the field of plastic & aesthetic surgery and share their experiences. The focus is on 10 live surgeries.
Host of the SOAP Meeting is Congress President Prof. Dr. med. C. Can Cedidi, Clinic Director of the Department of Plastic, Reconstructive and Aesthetic Surgery at the Bremen Center Hospital. The meeting offers both clinicians and general practitioners a first-class opportunity to get first-hand information on the cutting edge of plastic & aesthetic surgery.
"The current trends in plastic & aesthetic surgery are minimally invasive procedures with a short downtime for the patients and results that are sustainable at the same time. This is sometimes a special challenge and I am pleased to have some very renowned and successful surgeons from Germany and the world as guests, who show their success concepts and tips and tricks, especially for tricky and critical indications", says Professor Cedidi.
Highlight of the Congress are 10 live surgeries, which will be broadcast directly to the auditorium with state-of-the-art technology, offering a unique opportunity to follow surgeries with close-up intensity and sharpness – the spectator has the feeling of being directly in the operating room. This form of transmission allows open questions to be discussed directly with the surgeon.
"This interactive exchange provides an exclusive opportunity to adopt new and innovative methods, gain valuable first-hand know-how, avoid future complications, and at the same time rethink and modify your own practices," emphasises Cedidi.
Three of the surgeries are: 'Facelift' by Giovanni and Chiara Botti, 'Transaxillary Endoscopic Breast Augmentation' by Prof. Markus Küntscher, and a 'Brazilian Butt Lift' by Prof. Luiz Toledo.
The congress will start on Thursday with greetings from the President of the International Society of Aesthetic Plastic Surgery (ISAPS) Dr Dirk Richter, who also guarantees the highest scientific quality during the SOAP-Meeting.
Especially in plastic & aesthetic surgery, there are many innovative treatment methods worldwide every year. For this reason, international scientific exchange is of vital importance. Already in the last two years, the open-mindedness with which renowned plastic surgeons have conveyed their knowledge and also put it up for discussion formed the basis for an exciting congress with the greatest gain in knowledge: "I have learned many things that I have taken home and even implemented directly. A really great experience and enrichment", reports Prof Dr Günter Germann, Medical Director of the Ethianum Heidelberg, after the last SOAP-Meeting. This is exactly what this year's meeting would like to build on. 
On Saturday, six exclusive workshops on minimally invasive facial surgery will complete the event. Issues such as hair transplantation, thread lift, filler and botulinum toxin and combined procedures will be discussed in small groups.
Through the English congress language and the outstanding faculty, the event offers the ideal platform to develop personal networks, to exchange experiences, to learn new things and to take valuable impulses in personal discussions and meetings with doctors from all over the world.
The SOAP meeting will be held in close cooperation with the German Society for Plastic, Reconstructive and Aesthetic Surgery (DGPRÄC), the Turkish Society of Plastic Reconstructive and Aesthetic Surgery (TPCD) and the Interactive Plastic Surgery Networking Society (IPSN).
All information and registration is available at: www.soap-meeting-bremen.de