Rosacea is a common chronic cutaneous inflammatory condition estimated to affect 415 million people worldwide [1]. It characteristically affects the central face and its primary features include flushing, non-transient erythema, telangiectasia and in progressive stages papules and pustules. Secondarily, it can be accompanied by burning, dry flaky patches, red plaques, oedema and ocular manifestations such as burning, conjunctival hyperaemia and lid inflammation [2].
There are four subtypes of rosacea: erythematous telangiectatic, papulopustular rosacea, phymatous and ocular subtypes [3]. Medical management of the condition involves the use of alpha-adrenergic receptor agonists, antibiotics, and antiparasitics but is often met with non-compliance or yields unsatisfactory results [4]. This case report illustrates the clearance that can be achieved with pulse dye laser treatment using the Vbeam® Prima.

TX1 Parameters Telangiectasia: 3x10mm, 15.5 J/cm2, 20ms, 30/20 DCD Diffuse Redness: 12mm 6.75 J/cm2, 3ms, Cooling 10C   TX2 Parameters Telangiectasia: 3x10mm 14 J/cm2, 20ms, 30/20 DCD Diffuse Redness: 12 mm 7.00 J/cm2, 3ms, 10 C   TX 3 Parameters Telangiectasia: 3x10mm, 15.5 J/cm2, 20ms, 10 Degrees C Diffuse Redness: 12 mm 7.25 J/cm2, 3ms, 10 C
Figure 1.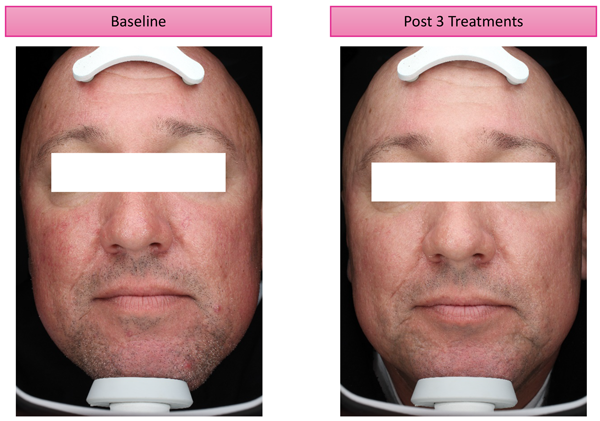 Figure 2.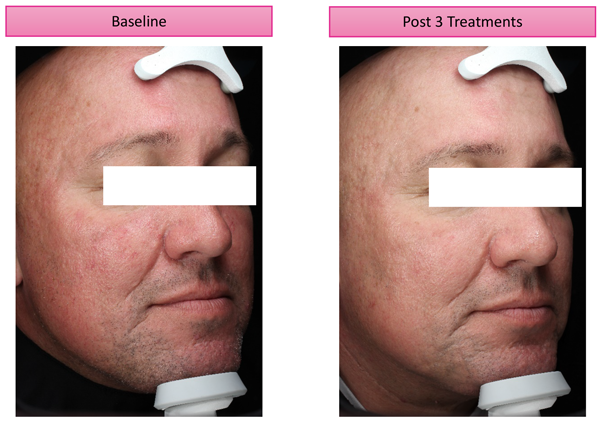 Figure 3.
Case report
A 52-year-old male with characteristic features of erythematous telangiectatic rosacea with remote history of antibiotic treatment presented for evaluation for laser treatment (Figures 1-3 show the patient pre- and post-treatment).
Our protocol for the laser treatment of rosacea with the Vbeam® Prima involves first treating any linear telangiectasia seen with the 3x10mm spot size to an endpoint of vasospasm and darkening of the vessel and then treating the entire face with the larger spot sizes of up to 15mm. Generally, we choose 'dynamic cooling device' (DCD) with a 30ms of spray delivery and 20ms of delay. Contact cooling is used when there is also overlying pigment requiring clearance. The general endpoint is a slight darkening of the area with mild oedema and erythema. We adjust pulse durations based upon the size of the vasculature and energy levels based upon the amount of target chromophore and skin type. Improvement is noted after the first session and the protocol is usually delivered in one to three sessions. Treatments are repeated to maintain results every six to twelve months.
Discussion
The pulse-dye laser at the 595nm wavelength has been used to treat the vascular components of rosacea over the last three decades. Vbeam® Prima is in the vanguard of treatment with laser for rosacea with adjustable spot sizes up to 15mm at energies of 6.5J/cm2 allowing for rapid and effective treatment of vasculature. The 3x10mm elliptical spot size is the choice to treat linear telangiectasia.
Single calibration allows easy adjustments of pulse duration and energy levels in order to reach desired endpoints over the various areas of the face depending upon the size of the target and amount of chromophore in each region.
We often consider cooling a 'fifth parameter' as the extent and type of cooling affects the treatment procedure and outcome. There are two cooling options on the Vbeam® Prima, the traditional DCD with cryogen consistently delivers optimal cooling of the epidermis and the contact cooling hand piece with a range of temperatures. The latter is an option and used to treat diffuse pigmentation or mixed vascularity and pigmentation.
Conclusion
Laser therapy with the Vbeam® Prima pulse dye laser is well-tolerated and highly effective in the treatment of rosacea providing clearance of vessels, improvement of erythema and improvement of overall skin condition which can be used alone or as an adjunct to other medical therapies to optimise control.
Declaration of competing interests: Konika Patel Schallen is Medical Director of Syneron-Candela, manufacturers of the Vbeam Prima.
References
1. Gether L, Overgaard LK, Egeberg A, Thyssen JP. Incidence and prevalence of rosacea: a systematic review and meta- analysis. Br J Dermatol 2018;179(2):282-9.
2. Wilkin J, Dahl M, Detmar M, et al. Standard classification of rosacea: Report of the National Rosacea Society Expert Committee on the Classification and Staging of Rosacea. J Am Acad Dermatol 2002;46:584-7.
3. Gallo R, Granstein R, Kang S, et al. Standard Classification and pathophysiology of rosacea: The 2017 update by the National Rosacea Society Expert Committee. J Am Acad Dermatol 2018;78:148-55.
4. Bernstein E, Thorpe RB, Schomacker K, et al. 'Laser Treatment of Rosacea.' In: Cosmetic Dermatologic Surgery (textbook chapter accepted for publication).
COMMENTS ARE WELCOME